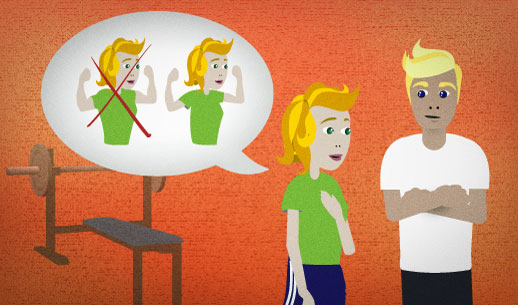 You're having your first meeting with a personal trainer. You want to start lifting weights, but you don't want to get really big muscles. You say:
I don't want to get all bulked up; I just want to get toned.
In casual speech, putting "all" in front of an adjective can make it sound more negative. Use it to talk about things that you don't like or that annoy you. For example:
Don't get all impatient.
You can even make positive descriptions sound negative using "all":
Why are you being all nice to me today? Do you want something from me?
When a person "gets bulked up", they get large and muscular like a bodybuilder or an American football player.
Being "bulked up" doesn't sound very good to most people.
Use "get" to describe someone becoming more bulked up. Use "be" to descibe someone continuing to be that size:
He was pretty bulked up back then, but he's slimmer now.
A "toned" body is in good shape: muscular but not too muscular. A professional dancer or swimmer probably has a "toned" body.
Use "get" to describe becoming toned. Use "be" to describe someone continuing to be toned:
I'm pretty toned right now, but I'd like to work on sculpting my abs a little more.
("Abs" are stomach muscles, and "sculpting" muscles means exercising until you can see each muscle clearly.)
(Print this lesson)