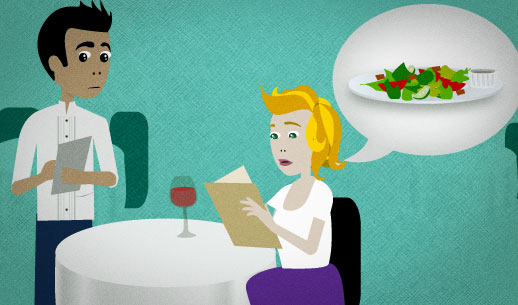 You're ordering lunch at a restaurant. You're on a diet, so you're trying to eat healthy. You order a salad but you want to put the dressing on it yourself so that you can control the amount. You say:
I'll have a chef's salad, dressing on the side please.
This is one way to order food at a restaurant. Other ways include:
I'd like (something)

Can I get (something)

Can I have (something)
Of these, "I'll have ___" probably sounds the most confident and commanding. But any of them are OK to use in most dining situations.
When you're ordering food at a restaurant, you can ask for dressing, sauces, ketchup, cheese, etc. "on the side". The restaurant will then separate them instead of mixing them with your food or putting them on top of your food. Often the sauce or condiment will come in its own little cup.
(Print this lesson)