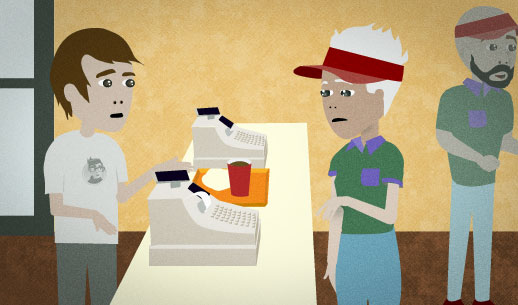 You're at a fast food restaurant. One of the employees who has a very strong accent asks you a question. You ask her to repeat herself 2 times, but you still don't understand. You say:
I'm sorry. I just don't get what you're trying to say.
People sometimes say "I'm sorry" in an annoyed or frustrated tone. In these cases, it doesn't really mean that you're truly sorry; it's just a standard expression to use when you're disagreeing with someone. In the example above, the speaker is giving up on trying to understand the woman.
In this example, the speaker is getting in an argument with someone:
I'm sorry, but you're wrong.
Use the phrase "I don't get ___" to talk about things that you don't understand:
I don't get this movie.
You can follow "I don't get ___" with a clause that starts with a question word like "what", "why", "how", etc.:
I don't get why he said that.
I don't get what I'm supposed to do.
I don't get how this works.
(Print this lesson)