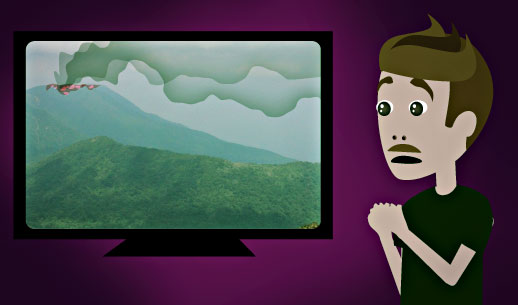 You're watching the news and you hear some news about a volcano. The newscaster says:
Mount Shinmoedake, a volcano in southern Japan, began erupting earlier this week.
A volcano is a kind of mountain that sometimes erupts. When a volcano erupts, it kind of explodes. Smoke and ash come out of it. Hot liquid rock, called lava, might also come out of it.
The word "erupt" mostly describes volcanos. There are some situations in which you can say that a person erupted. When a person erupts, they suddenly start to make a loud noise like yelling or laughing:
Everyone standing around erupted in laughter when he told us that.
There've been a few occasions when Murray has suddenly erupted in anger at us, but it's certainly not common.
This is something that people do mostly in written English and in the scripts for new shows. When you want to give extra information about something, you can add it in the middle of a sentence wih commas coming before and after it:
My daughter, who's been surfing for years and years, tells me that it's one of the best beaches on the East Coast.
The Essence Music festival, an outdoor concert series that's held anually in New Orleans, attracts a huge African American audience.
(Print this lesson)