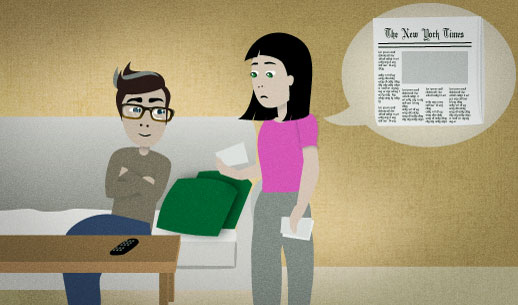 You subscribe to a newspaper. You're checking the mail, and there's a letter warning you that you have to pay for your subscription again soon. You say to your husband:
Our subscription to the Times is coming up for renewal.
Newspapers are often called "The ___ Times". The most well-known example is "The New York Times". When people talk about "The Times", they usually mean The New York Times newspaper.
A "subscription" is something like a newspaper that you pay for regularly (usually monthly). Some examples of things that you can subscribe to are:
Subscriptions usually finish after some period, like one year. At the end of your subscription, you have to "renew" it. This means that you agree to subscribe for another period.
"It's up for renewal" means that it's time to be renewed. The subscription period has ended, so now you have to renew it.
Some other examples of "up for ___" are:
She's up for re-election this year.
My car is up for inspection.
"Coming up for ___" means that it will have to be done soon.
(Print this lesson)