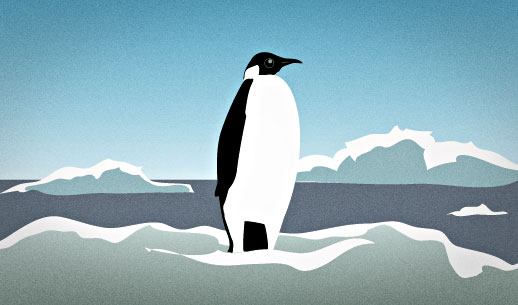 You're reading a web page about penguins written by someone who's really interested in them. The page is explaining penguins scientifically. It says:
Penguins are remarkably well adapted to their icy environment, thanks to millions of years of evolution.
"Remarkably" is a word that means something similar to "very" or "quite". It also expresses a feeling of surprise.
"Remarkably ___ is not as common as "very" or "quite", though. It's mostly used within certain phrases like "remarkably well ___". Some examples of this include:
Plant remains, textiles, leather, and even human bodies have been remarkably well preserved by the dry desert climate.
Your children are remarkably well behaved.
Their meat and vegetable dishes were remarkably well flavored.
"Well adapted", as used in the example at top, is another common phrase used with "remarkably".
To be "adapted to" an environment means to be able to live in that environment well because of certain qualities you have. For example, penguins are adapted to cold environments because they have thick feathers that keep them warm.
People can also "be adapted to" an environment. This can mean either that they are physically adapted, or that they are mentally able to handle a situation.
"Evolution" is a scientific term. It means the way that animals and plants change over time, to become better adapted to their environments. For example, people sometimes like to talk about why humans first started to walk on two feet instead of using all 4 hands like apes do.
Evolution takes a long time to work, so it's common to talk about "millions of years of evolution", or "hundreds of thousands of years of evolution.
Society expects us to control our urges, but you can't fight against millions of years of evolution.
You can say what was responsible for something, or what caused it, using "thanks to ___".
This phrase works best for talking about the cause of something good:
We've raised over $130,000 thanks to your help and donations.
I can watch thousands of movies and TV shows instantly in my living room thanks to this device.
But there are also times when you use this phrase to talk about the cause of somethingbad:
We had to re-do our entire bathroom and hallway floors thanks to that water leak.
We missed the first half thanks to the traffic.
You can use "thanks to ___" to say that a person was responsible, or a thing:
I know how to do it thanks to you.
She's in much better shape now, thanks to the dance classes she's been taking.
(Print this lesson)