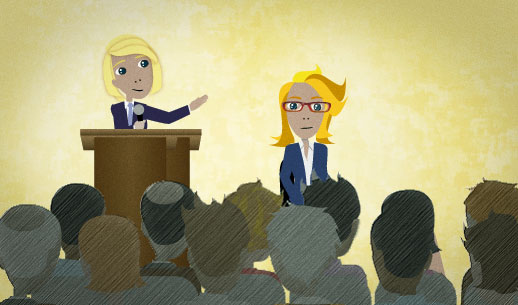 You're introducing a guest speaker at a conference. You're talking about her
She is also the recipient of numerous awards, including the Pulitzer Prize for Nonfiction.
The "recipient" of something is the person who receives it. In other words, it's the person who gets it. For example, the recipient of a package that's delivered through the mail might have to sign a form saying that they got the package.
Someone who gets an award is the "recipient" of the award. The word "recipient" is pretty formal, so it's OK for giving formal introductions like in the example above. A more casual way to talk about someone who's won an award is to call them a "___ winner":
She's a Pulitzer Prize winner.
"Numerous" is a formal way of saying "many" or "a lot". Some common words that people use with "numerous" include:
I asked him to stop on numerous occasions. (many times)
Numerous studies have shown a strong link between obesity and various forms of cancer.
Vegetarianism has numerous health benefits as well.
Use this phrase to give examples of some of the things in a list. When you use "including ___", you don't need to list all of the items.
UFC fighters study all kinds of martial arts, including Jiu Jitsu, Muay Thai, Judo, and many others.
They often have health issues, including heart disease and respiratory problems.
This is a famous award for writers. It's especially well-known for journalists. It's one of the most prestigious awards that a journalist or writer can win.
"Nonfiction" is writing (or sometimes filmmaking) which is about things that are true or possibly true. In other words, it's all writing other than novels or other stories. Types of nonfiction include:
textbooks
biographies of famous people
how-to books
self-help books
books about science
(Print this lesson)