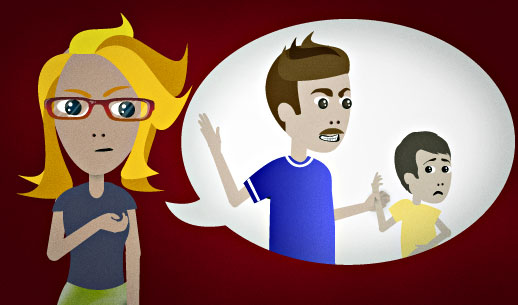 You get into a debate with one of your classmates about whether you think it's OK for parents to punish their children by spanking them. You don't think it's a good form of punishment. You say:
There's a very fine line between spanking your kids and child abuse.
When two things are very similar, and it's hard to clearly define the difference between them, you can use this phrase:
There's a fine line between drinking socially and alcoholism.
There's a fine line between helping your kids with their homework and doing it for them.
There's a fine line between dressing a little sexy and looking trashy.
Usually, one of the things is good or OK, and the other one is bad. The bad one comes last.
"Spanking" is a form of punishment that parents give their kids. The parent hits the child on his or her bottom, with an open palm. It hurts the child, but doesn't cause any permanent injury.
"Child abuse" is when an adult hurts a child. It includes any kind of harmful behavior, such as:
hitting, kicking, pushing a child
neglect (not feeding or taking care of your children)
sexual abuse
emotional abuse
Child abuse is a serious crime.
(Print this lesson)