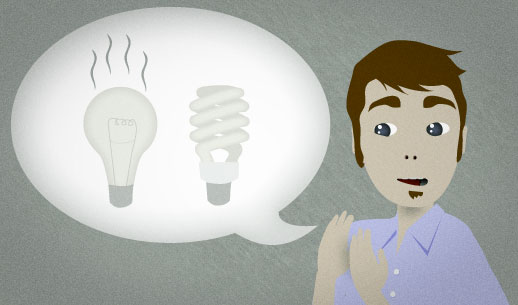 You use fluorescent light bulbs in your house to save electricity. You're explaining why you use them to an acquaintance who says he doesn't know why people use them. You say:
They're more energy efficient than conventional bulbs because they generate a lot less heat.
An "energy efficient" machine doesn't use much electricity. It's built to save energy. Newer light bulbs, air conditioners, televisions, etc. are usually more "energy efficient" than older ones.
The word "efficient" can also be used in these compounds:
a fuel-efficient vehicle
a time-efficient method
If you're wondering why "fuel-efficient" and "time-efficient" are hyphenated, it's because they appear before a noun. Look at this example:
Their new cars are more fuel efficient.
The round light bulbs that most people use are technically called "incandescent bulbs". However, you can also call them "conventional bulbs". The word "conventional" means that they're the kind that everyone uses. Some other "conventional" things include:
conventional medicine (medicine done by trained doctors in clinics or hospitals)
conventional weapons (missiles, bullets, jets, etc.; not nuclear, chemical, or biological weapons)
conventional methods (of doing something)
The word "generate" means to make or create something. For example:
Light bulbs generate light and heat.
A political speech might generate controversy.
A change in the government's policies might generate new jobs.
The word "generate" sounds kind of technical, so it's a good choice for talking about something technical or scientific:
The sun generates 400 trillion watts of energy every second!
Photosynthesis generates ATP and oxygen as a byproduct.
(Print this lesson)