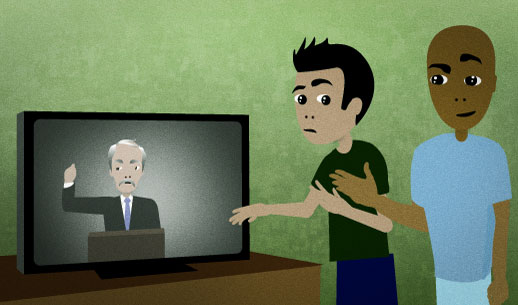 You're watching a political debate on TV with a friend. He asks if you understand the debate. You understand it a little bit, but not completely. You say:
I understand the general sentiment, but it's hard for me to concisely summarize what they're saying.
The "sentiment" of a conversation or discussion is the general feeling of the people who are talking. A "sentiment" can be positive, negative, or neutral.
The word "general" often comes before "sentiment". The "general sentiment" is how most of the people in a group feel about something.
When a lot of people can't do something, say "it's hard to ___":
It's hard to find a job in this economy.
But if you have trouble with something on your own, say "hard for me to":
It's hard for me to understand what they're saying when they talk so fast.
To "summarize" means to explain something in a short form. For example, you can summarize the plot of a movie or what was said in a meeting.
The word "concise" means "short" when you're talking about writing or explaining things. It's a positive word, so being "concise" in writing or speaking is good.
"Concisely summarizing" something means that you explain it in a very short form.
The word "what" turns this expression into something like a noun.
Some people make mistakes like:
summarize they're saying
But you can't do this. You need to include "what" or "that which" or "the thing that".
(Print this lesson)