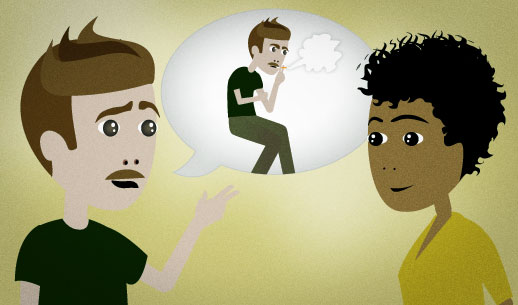 You quit smoking a few months ago, and you're really happy not to be a smoker any more. You're talking to a friend who's not a smoker about how bad smoking is. You say:
It's a nasty habit — bad for your health, expensive, not to mention the odor.
Usually people call habits "good" or "bad". But sometimes bad habits can be called "nasty". The word "nasty" sounds worse than "bad". Here are some "nasty habits":
biting your fingernails
leaving dirty dishes in the sink
chewing tobacco
If something makes you unhealthy, it's "bad for your health". Use this especially when you're talking about habits and things that you do often:
Chronic stress is bad for your health.
A recent study shows that sitting for long periods of time could be bad for your health.
Use "not to mention ___" when you're listing reasons or excuses. It marks things that are kind of "extra" items on the list.
For example, in the sentence at top the speaker gave two good reasons why smoking is a bad habit: it's bad for your health and expensive. The bad odor that cigarette smoke leaves is another reason, but it's not as strong of a reason as the first two. So the speaker adds that to the list with "not to mention".
The costs, not to mention the risks, of transporting the telescope to and from space would have been excessive.
You can follow "not to mention" with a noun like in the examples above. You can also follow it with a verb:
She'd never even held a gun before, much less shot one.
Or with a clause:
It's so much easier to order something than to spend all that time going to the grocery store, cooking, washing dishes. Not to mention I'm not that good of a cook to begin with.
An "odor" is a smell. The word "odor" is not as common as "smell", and it's most often used in these phrases:
body odor
a strong odor
a pungent odor
a faint odor
a foul odor
an unpleasant odor
a strange odor
"Odors" are usually bad, although it is possible to describe an odor as "sweet" or "pleasant". For good smells, use "scent" or "fragrance".
(Print this lesson)