"Before we can install the new counter, we'll have to rip up all this old linoleum, and possibly replace some of the underlying floor. "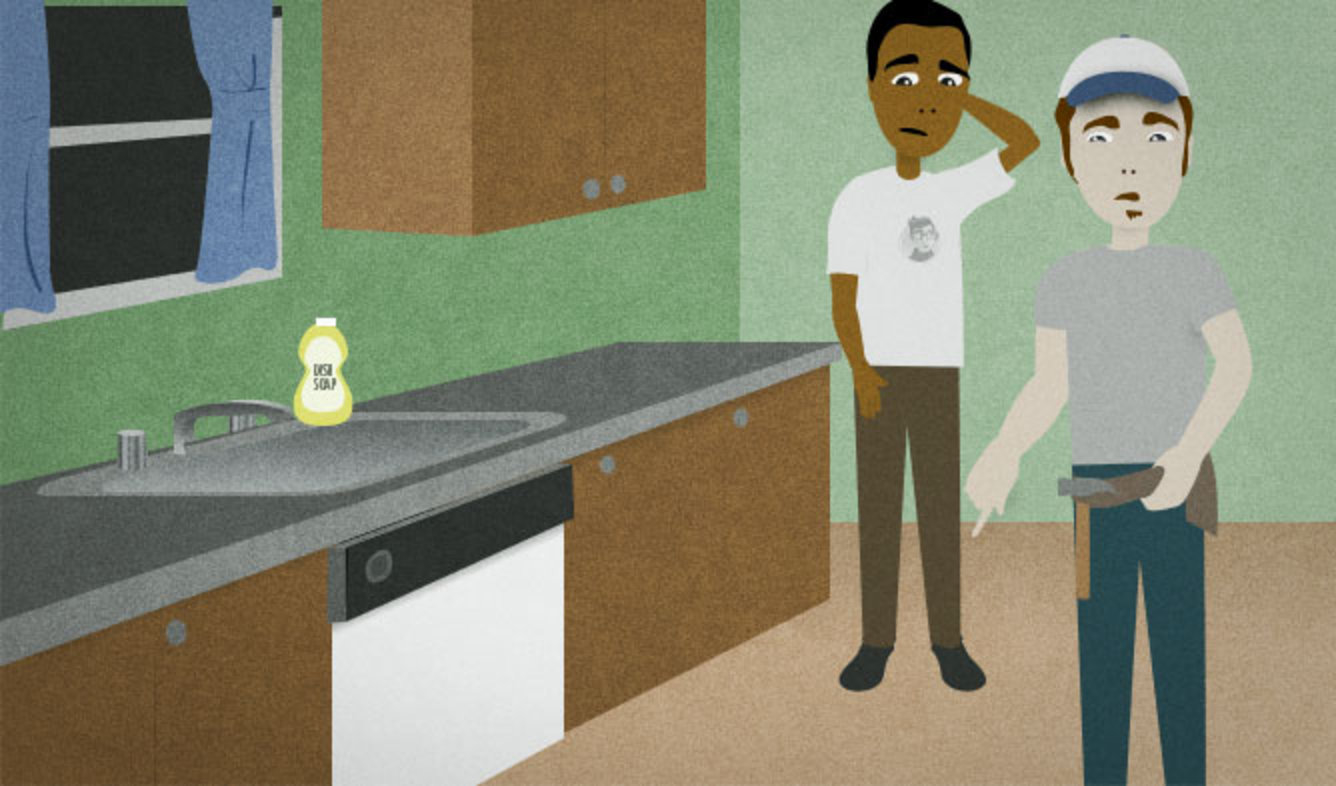 You work in construction remodeling people's homes. A homeowner wants to remodel his kitchen. To do this, you need to replace a lot of stuff. You tell him what you will have to do.
Before we can install the new counter, we'll have to rip up all this old linoleum, and possibly replace some of the underlying floor.
Want Video and Sound? Follow us on YouTube
"Installing" something means putting it together in the right place and setting it up. You can "install" things like:
a dishwasher
a hook or shelf that hangs on the wall
a security system
You can also "install" software on a computer.
"Installing" something is different from "building" it because you "install" things that have already been made, but just need a little work to assemble.
Most kitchens and bathrooms have "counters", which are flat spaces that you can use while standing. A counter is like a table, but higher and usually built into the room instead of being a separate piece of furniture.
To remove a covering that's attached to the floor, like a carpet or tiles, you "rip it up":
They're going to rip up all the old flooring and put in brand new hardwood floors.
We also use "rip up" in a completely different way, to mean completely ripping something like a piece of paper:
I ripped up all my old photos of my high school boyfriend after I broke up with him.
Linoleum is a floor covering that's used mostly to cover kitchen and bathroom floors. It comes in large rolls and is glued to the floor.
This expression is useful for listing more than one action. The actions that come after "possibly" are less certain than the ones that come before:
I think I'll sell the piano, and possibly the bike too.
"Replacing" something means getting rid of an old thing and getting a new one instead. You replace things like:
old machines
machine parts that are old or broken
parts of a building that have rotted or gone out of style
employees who aren't doing a good job
Something that is covered and hidden by something else can be described as "the underlying ___".
Physical examples of "underlying" things are:
the wood in a house that's behind the walls ("the underlying wood")
an old painting which has been hidden by dust and dirt ("the underlying painting")
The word "underlying" is also very common for talking about emotions and ideas:
the underlying problem
underlying emotions
the underlying cause of ___
an underlying assumption
A "counter" is like a table but it's a little higher. You use a counter while standing or sitting on a tall stool.
There are counters:
Something similar to a "counter" but with a different name is a "bar". At some kinds of restaurants, like a diner, you might "sit at the counter", while at other restaurants where alcoholic drinks are served you would "sit at the bar".