"It may not be too eco-friendly, but they're a lot easier to carry that way."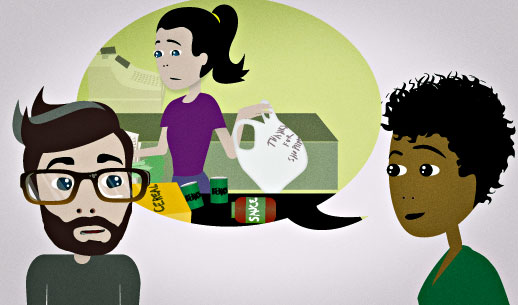 You're chatting with a friend about the topic of going to the supermarket. You've just said that you always choose to have your groceries bagged in plastic bags. You know that your friend supports environmental issues, so you say this to explain your choice.
It may not be too eco-friendly, but they're a lot easier to carry that way.
Want Video and Sound? Follow us on YouTube
Use this expression to admit that something bad is true, but then explain why you're doing it or using it anyway:
Drinking a lot of coffee may not be good for you, but I just can't help myself. I have to have it!
She may not be as young as she used to be, but she's still young at heart.
This example uses a noun phrase after "may not be" instead of an adjective:
I may not be the smartest guy in the world, but I'm smart enough to know when I'm being lied to.
In the example above, "too" means "very". Here are some other examples of this:
We're not too happy about the way that he was running things.
A: How's your dad?

B: You know, he's not doing too well. He may need surgery.
"Not too ___" can also have the meaning of "not more than you want":
What a nice day! Not too hot, not too cold.
I like a cake that's not too sweet, you know?
You should be able to tell the difference between these meanings based on the situation.
Something that is "eco-friendly" is safe for the environment. Recycled products can be called "eco-friendly". A car that uses less gasoline is also "eco-friendly".
You wouldn't say that a person is "eco-friendly". Only products and people's actions can be eco-friendly. To describe a person who is careful to protect the Earth, use the phrase "environmentally conscious".
Use this phrase to explain a better way to do something:
Lay it on its side and hold it steady with your other hand. It's easier to cut that way.
I try to memorize new words within an example sentence. They're easier to remember that way.