"Meyerson suffered a major knee injury last year that took him out of the game for most of the season."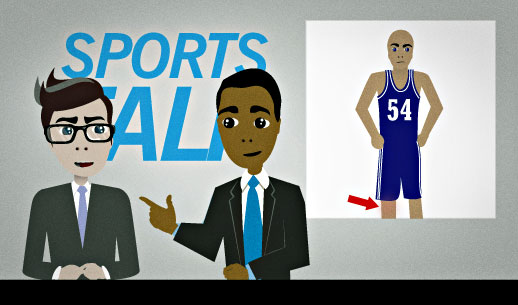 You're about to watch a basketball game on TV. It's the first game this year for the teams that are playing. There's a show before the game where the sports announcers discuss the game. They're talking about one of the players who got hurt last year. One of the announcers says this.
Meyerson suffered a major knee injury last year that took him out of the game for most of the season.
Want Video and Sound? Follow us on YouTube
Sports announcers usually speak about athletes by their last names (their family names).
To "suffer an injury" means to get injured (or, simply, to get hurt). The phrase "suffer an injury" is formal, and mostly used in news, in legal documents, in history textbooks, and so on:
Employees who suffer an injury as part of their working duties are entitled to compensation.
In addition to the word "injury", you can also suffer:
an illness
a fracture (meaning a broken bone)
a heart attack
To "suffer" an injury is different from "suffering from ___". The first phrase just means to get hurt. It doesn't mean that the injury was necessarily painful. The second phrase means to feel pain and discomfort over a period of time. It's used for talking about longer-term illnesses and conditions:
Both my mother and my grandmother suffered from diabetes.
Do you suffer from allergies?
When something is big, important, or difficult, you can describe it as "major". A "major injury" is something like breaking a bone, tearing a tendon, or something else that makes it difficult to move normally.
This shows up in phrases like:
a major problem
a major issue
a major source of (something)
have a major impact on (something)
a major (movie) star
In sports, when a player's injury makes it impossible for them to play, you say that the injury "took ___ out of the game":
Savard dove for the puck and felt his left leg crumble underneath him. The result was five separate fractures and three operations that took him out of the game for three months.
A coach can also "take (a player) out of the game".
Sports are played in "seasons". Usually there is one season per year for each sport. The season always starts and ends around the same time.
TV shows also have seasons.