"What if someone tries to deposit a check, but the date on the check is later than the current date?"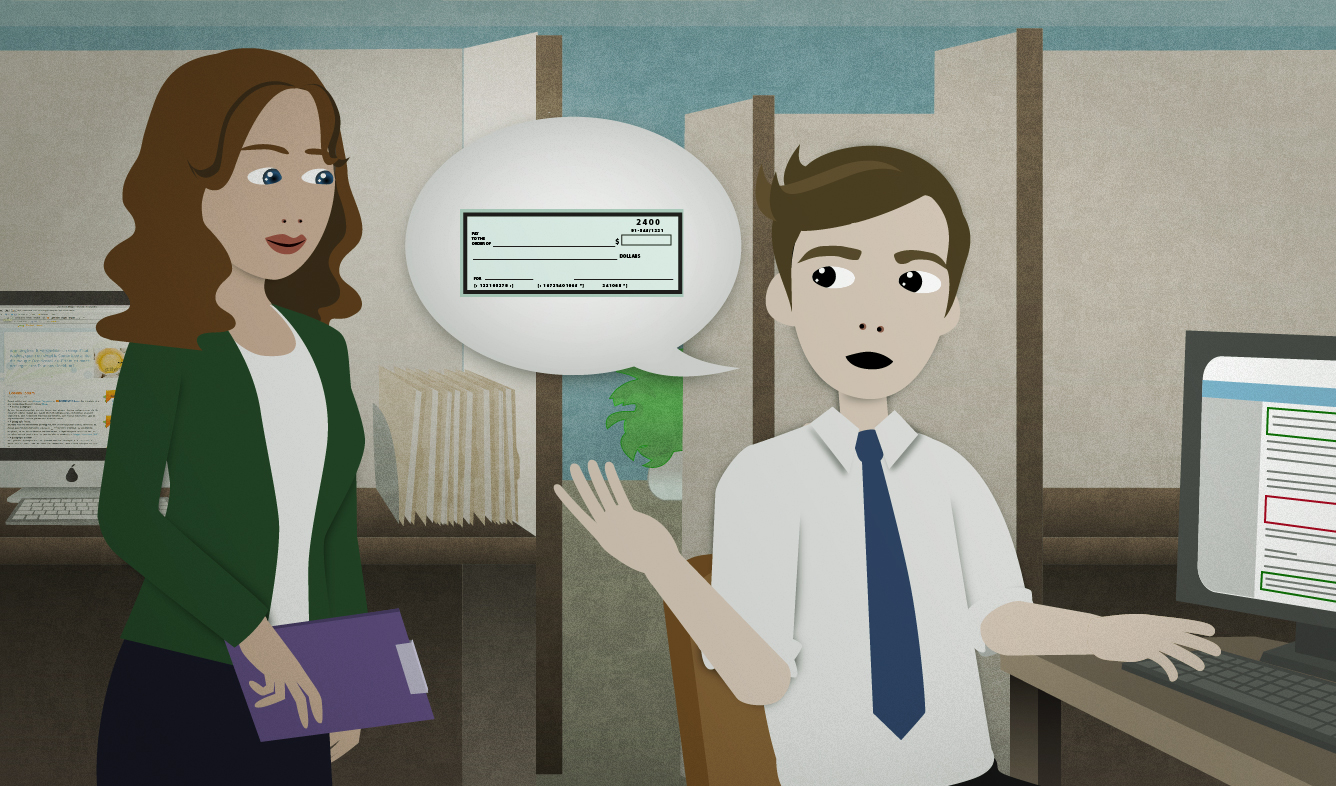 You just got a job at a bank. You're being trained by your manager. She's explaining how to deposit customers' checks into their accounts. You have a question.
What if someone tries to deposit a check, but the date on the check is later than the current date?
Want Video and Sound? Follow us on YouTube
The phrase that we use to describe putting money into a bank account is "deposit". You can follow the word "deposit" with a few different things:
deposit (some cash / a check / a money order): "Can I deposit this check please?"
deposit (an amount): "I deposited two thousand dollars into your account last week."
You deposit something into an account. In the example above, the speaker says "deposit this into checking". It's understood that this means "into my checking account".
A checking account is a bank account that you can easily get money in and out of with checks (small pieces of paper that you fill out and sign to pay someone with) or a debit card (a card that you pay with which takes money directly out of your bank account). Checking accounts usually don't earn interest. That means that you don't earn extra money for the money that's in a checking account. Other accounts, like a savings account, do earn interest.
You may have heard that there's a difference between "try to (do something)" and "try (doing something)". In general, you should talk about a goal after "try to ___":
Try to get there by 10:00.
I try to make everyone feel comfortable when I host a party.
And talk about a method to reach a goal with "try ___ing":
I can never sleep on an airplane. I've tried listening to relaxing music, taking sleeping pills, staying up the night before. Nothing seems to work.
Ask "What if ___?" when you want to talk about what might happen in an imaginary situation. For example:
What if you win? Wouldn't that be amazing?
What if someone asks me where you are? What should I tell them?
The "current date" means the date today or the date when something will happen. For example, this is a formal way to ask someone about today's date:
What is the current date?
This means the date when you submit something like a form or application:
When you fill it out, you have to enter the current date.