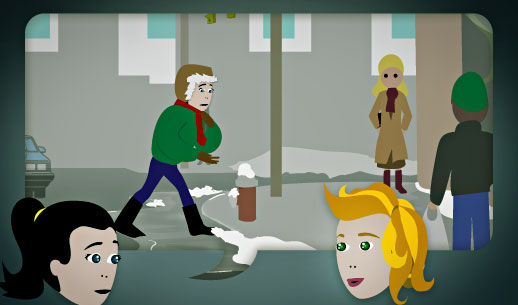 It snowed yesterday. Today the snow has partially melted and turned to slush. You just walked to your child's daycare center, and your feet got wet from some water on the street. You're talking with one of the other mothers at the daycare and tell her:
I stepped in a big puddle on the way over here, and now my feet are soaking wet.
A "puddle" is a small area of water. Puddles can form after it rains, when snow melts, or even in your house if one of your water pipes breaks.
When you "step in" a puddle on a road or sidewalk, it means that you put your foot into the water.
(do something) on the way over (somewhere)
This means to do something while you're traveling to a place:
I ran into Jeff Skillings on the way over here. You remember Jeff, right?
Sometimes you can leave out "over":
"Soaking wet" is a common phrase that means that someone is very wet, usually because of rain or the weather.
To "soak" means to become completely filled with water like a sponge. So when you say that you or your clothes are "soaked" or "soaking wet", it's often an exaggeration. For example, if your coworker comes to work after walking in the rain, you can say this:
You're soaking wet!
...even if your coworker is only kind of wet.
(Print this lesson)