"All proceeds will go to the Susan G. Komen foundation to fund cancer research."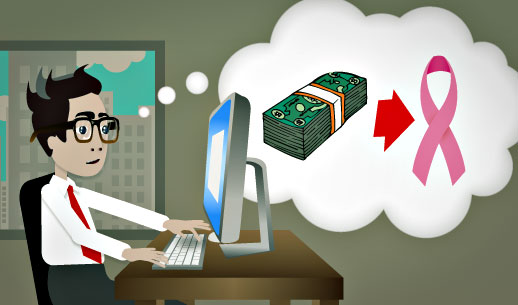 You're working on a charity event to raise money for cancer research. You'd like to ask some of your co-workers for help with the event, so you write an e-mail about it to a group of people. You explain where the money from the event will go.
All proceeds will go to the Susan G. Komen foundation to fund cancer research.
Want Video and Sound? Follow us on YouTube
People sometimes do events or sales in order to help a charity. For example, people in a church group might all bake cakes, cookies, and pies, and then sell them at a "bake sale". Then they give that money to an organization that brings food to elderly people who are too weak to cook for themselves.
When there's an event or sale like this to help out a charity, announcements of the event usually use the phrase "All proceeds go to ___". For example:
All proceeds from the celebrity golf tournament go to the American Red Cross.
Sometimes a business will promise to share some money with a charity. But since the buisness still needs to make money, they can't give everything to charity. In that case, they'll say:
A portion of proceeds go to the Animal Welfare Institute.
The word "proceeds" means money that you make from something. But it's really only used when you're talking about money that you give to a charity.
A "foundation" is like a company, but it's put together for some reason other than just making money. Most foundations are either charities or political groups. Here are a few foundations that come up in a quick Google search:
To "fund" something means to provide money for it.
You usually "fund" something that takes a lot of money and that will have some kind of positive value in the future. Here are some words that commonly follow "fund":
fund a program
fund a project
fund research
fund construction
fund an expansion (of a company or a government agency)