"I think that the ship symbolizes your feelings about your professional life."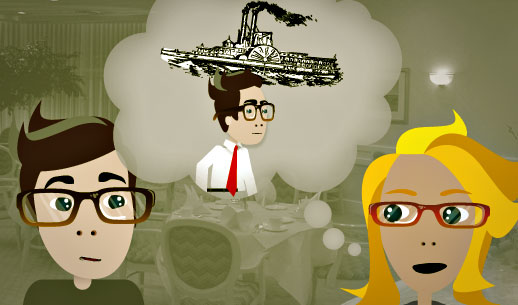 Your friend told you about a recurring dream he has in which he's on a ship that's sinking. He asked you what you think it means. This is how you explain your theory.
I think that the ship symbolizes your feelings about your professional life.
Want Video and Sound? Follow us on YouTube
A "symbol" is one thing that represents something else. For example, a wedding ring is a symbol for a couple's marriage.
"Symbolize" is a verb that means to be a symbol. Here's an example:
This wedding ring symbolizes our love and commitment to each other.
People think that the events that happen in your dreams are symbols for emotions or memories in your real life. People often try to interpret each other's dreams, which means to explain what the dreams mean.
There are also a lot of symbols in things like:
literature
paintings
ceremonies
Your "professional life" is your job or career. In the example above, the speaker thinks that her friend dreaming about being on a sinking ship means that he is worried about his job.
People sometimes name different parts of their lives in this way. Here are some other "parts" of a person's life:
Your personal life is what you do outside of work.
Your home life is what happens at home with your family.
Your spiritual life includes prayer, meditation, going to a church, temple, or mosque, and so on.
Your romantic life is time that you spend dating, having sex, or talking to your husband/wife/boyfriend/girlfriend.
Your emotions and thoughts about something are sometimes called "your feelings". When it's used in this way, "feelings" is usually plural.