"That comes with a 90-day warranty. Would you like to purchase an extended two-year warranty?"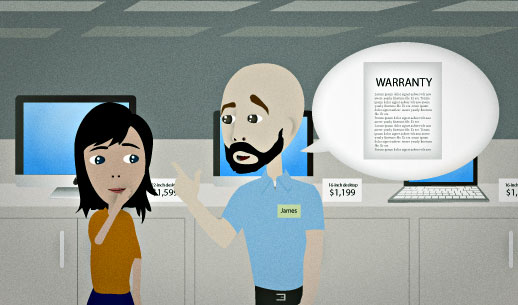 You're buying a new computer at an electronics store. You've told the salesperson which computer you want to buy, and then he asks you this.
That comes with a 90-day warranty. Would you like to purchase an extended two-year warranty?
Want Video and Sound? Follow us on YouTube
Sometimes when you buy something, there are extra free items that you also get for free. To describe this, use "___ comes with ___":
The chicken comes with french fries or steamed veggies. Which one would you like?
A: Where'd you get that case?

B: It came with the phone.
The phrase "a 90-day warranty" means a warranty that lasts for 90 days. Here are some other examples of similar phrases:
Call now for a free 30-day trial!
This is something that you see and hear on advertisements a lot.
There's a 3-day weekend coming up.
This is what you call it when there's a holiday on a Monday or Friday.
Also take a look at this PhraseMix lesson:
It's an eight-hour drive, so we should leave here by nine o'clock.
To "purchase" something means to buy it. The word "purchase" is more formal than "buy". Use it when you're communicating with a customer about something that they bought:
Which item did you purchase?
As a customer, you use "purchase" when you're making a formal complaint to a company:
I purchased one of your two-person backpacking tents through your online store last week, but when it arrived there was a large tear in it.
Another place where you'll often see the word "purchase" is in written descriptions of things that people or companies bought, like in newspapers:
Apple has purchased Quattro Wireless for $275 million dollars.
You can also use the word "purchase" as a noun, without any changes in spelling or pronunciation. For example:
Thank you for your purchase.
When you buy a new product like a car or a piece of electronic equipment, it usually comes with a warranty from the company that makes the product. The warranty is a kind of legal agreement. The company promises that their product will continue to work for a certain length of time. If it doesn't, the company will replace it or refund the customer's money.
In the U.S., products usually come with a "manufacturer's warranty", which is 90 days for a lot of products. But stores also try to sell their customers an "extended warranty", which costs extra but protects the product for a longer time.