"It takes a lot of people 15 years, sometimes even more, to work off their college loans."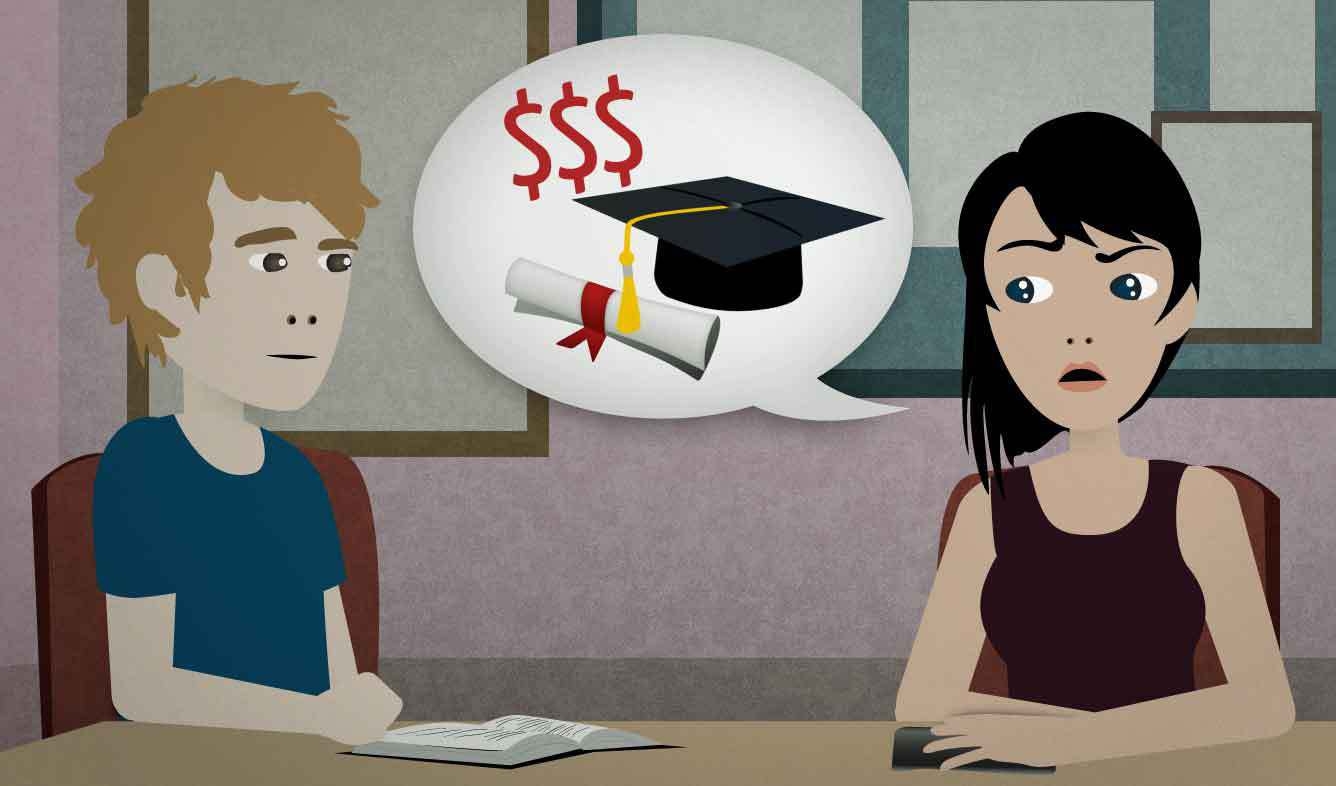 You're talking with a friend about your future plans. You're considering an expensive U.S. university, but you're unsure because the tuition is so high.
It takes a lot of people 15 years, sometimes even more, to work off their college loans.
Want Video and Sound? Follow us on YouTube
To "work off" something means to work hard in order to make something go away. This phrase is used to talk about just a few subjects. One is getting rid of fat or weight by exercising:
I need to work off about 15 pounds before beach season!
Why don't we go for a little walk after dinner to work off some of those calories.
The other situation to use "work off ___" with is a debt or obligation:
It takes some graduates over 15 years to work off their college loans.
They have their way into the country paid for, and then have to work it off doing cheap labor.
In addition to "work off ___", you can also use "work __ off". The word that goes between is usually something like "it" or "them":
How long did it take you to work it off?
This is a phrase for saying how long a common process or action is.
It often expresses how long a person's travel time is:
It takes me 20 minutes to get to work.
It can also be used to talk about other actions, like taking a shower, getting dressed, and putting on makeup to get ready to go out:
It takes Erin an hour and a half to get ready.
And you can use it to talk about natural processes:
It takes about two weeks for the fruit to ripen.
When people study at a college or university, they sometimes need to borrow money to pay for their tuition. Banks offer special loans for students which the students can pay off after they've graduated from school. These loans are called "student loans".
Here "even" is used to emphasise "more." If the speaker thinks something is really surprising or unusual, "even" helps to express this.
There were even more people waiting outside.
Last time he asked us to read a 20-page essay overnight. This time we had even more pages to read.
When Americans talk about "college", they probably mean a 4-year college or university.
In most other English-speaking countries, people differentiate between "university" - a four-year university with research and graduate programs (you may hear "uni" used as an abbreviation) - and "college" - a "junior" or "community" college.
Here's a full explanation of the difference between "college" and "university".