"Once upon a time, there was a kingdom ruled by a kind and beautiful queen."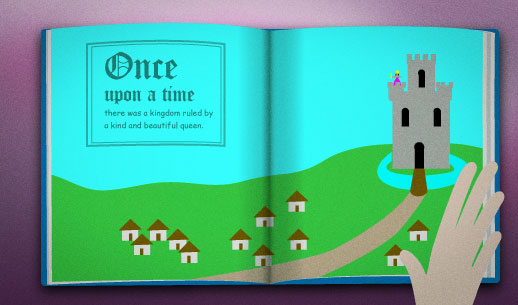 You're reading a children's book to your child. It's a fairy tale. This is the first line of the book.
Once upon a time, there was a kingdom ruled by a kind and beautiful queen.
Want Video and Sound? Follow us on YouTube
This is a set phrase that children's fairy tales and story books start with. It means "one time" and suggests that the story happened a long time ago.
Someone with complete power over a place "rules" it. This is usually a king, queen, emperor, etc.
In modern days, you don't say that a president or prime minister "rules" the country that they're leaders of. That's because presidents and prime ministers don't have complete control; they have to follow certain rules and laws, and the citizens of the country can have them replaced.
Because of this, you should remember these phrases:
ruled the kingdom
ruled the empire
ruled the land
governs the nation
leads the country
The word "kind" means "nice" and "not cruel". However, you don't hear it used much in daily conversation. People do use "kind" in some set expressions, like:
How kind of you.
And it's OK to tell someone to "be kind to ___":
Be kind to animals.
However, it sounds a little strange to describe someone as being "kind" in everyday speech. There are a few reasons for that:
"Kind" is a slightly formal word. It's used mostly in novels, children's books, and so on.
You usually describe someone as "kind" when they have more power or a higher social position. So, for example, a queen can be "kind" to her subjects, and a man can be "kind" to his pet. In earlier times, before there was equality between men and women, you could talk about a husband being "kind" to his wife.